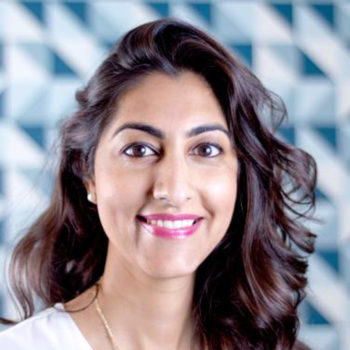 Luvleen Sidhu
Co-Founder, President and CSO of BankMobile
Luvleen Sidhu is the Co-Founder, President and Chief Strategy Officer at BankMobile, a completely digital bank, offering an entirely fee-free checking account, aimed at helping the underbanked, millennials and middle-income Americans have an affordable, effortless and financially empowering banking experience.
Sidhu is also a member of the BankMobile Board of Directors and Director and Founder of the BankMobile Foundation, where she identifies and funds budding entrepreneurs and organizations that promote financial literacy.
Sidhu, along with her father Jay Sidhu, co-authored, "Why Can't Banks Be As Easy As Uber?: BankMobile And The Real Future Of Banking," which reached #1 International Amazon Best Seller-status and landed the authors on Amazon's Top 100 Authors list in Business and Money in less than 24 hours.
Sidhu has also been recognized in the industry for her accomplishments. She was named 'Most Innovative Woman in Banking – Greater New York' and 'Best Women Owned Financial Services Company – New York' in Corporate America's 2016 American Businesswoman Elite Awards; one of Philadelphia Business Journal's 'Women to Watch in Banking' in September 2016; Bank Innovation's Top 10 'Innovators to Watch' worldwide in June 2016 and selected as one of the outlet's 'Innovators to Watch' worldwide in June 2015; the Lehigh Valley Business Women of Influence – Woman to Watch Honoree in February 2016; a winner of New York Business Journal's Women of Influence Awards in November 2015; and one of Auto Finance News' '10 Executives to Watch in Auto Finance' in September 2015.
Sidhu has been featured regularly in the media including on CNBC, Bloomberg Radio, Yahoo Finance, Fox News Radio and in The Wall Street Journal, Forbes.com, American Banker, Crain's New York, FoxNews.com, among others.
Sidhu is also a national and international speaker at industry conferences and at undergraduate and graduate programs, where she encourages financial innovation and entrepreneurship. She is also on a mission to provide financial advice specifically to her fellow millennials. Previous speaking engagements include: the Future of Digital Banking in London and Singapore, Bank Innovation Israel, American Banker conferences in the U.S., Harvard Business School, and Wharton Business School, among others.
Additionally, Sidhu serves as a mentor to fintech startups as part of the Techstars accelerator program. She is passionate about serving the fintech community in hopes of empowering entrepreneurs to bring new technologies to market in the fintech space and pushing the standard forward in financial services.
Prior to her current role, she was a management consultant at Booz & Co. in their financial services practice. Before attending business school at Wharton, she worked as the director of corporate development at Customers Bank. While at the company, Sidhu introduced several growth projects, including partnering with a New York City-based start-up to improve the banking experience through innovative technology.
Previously, she was an investment analyst at Neuberger Berman in their hedge fund of funds group. Sidhu holds a Master of Business Administration from The Wharton School at the University of Pennsylvania and a Bachelor of Arts Degree in Government from Harvard College.
Personally, Sidhu is involved with several social impact projects that include establishing computer centers in India to educate rural women, and organizing and sponsoring medical camps in underprivileged areas in Punjab. She is also a leader in the Soka Gakkai International Non-Profit, mentoring individuals and providing them with guidance and actionable tips to help them achieve their full potential professionally, personally and spiritually.