Connect with CEOs
at CEOC Leadership Boot Camps
CEO Leadership Boot Camps are private meetings of the best and brightest CEOs from mid-market companies – companies with between $100 million and $3 billion in annual gross receipts. Through a series of candid round-table discussions, participants tackle issues unique to their positions, facilitate a mutual understanding, and create long-term peer relationships. Each event is moderated by a group of top functional experts. To contact your PCC, please send an email to bootcamp@ceoconnection.com.
The CEO Boot Camps are completely interactive; there are no lectures. Each CEO Boot Camp is limited to 12 CEOs to ensure quality and intimacy in discussions. In order to attend participants must meet eligibility criteria (see below); be able to both derive benefits from relationships with their peers and to provide expertise in return; sign a non-disclosure agreement. No competitors are allowed in the room (without permission) and the first CEO in each industry to register secures their industry exclusivity.
CEO Boot Camps are not just about the program or speakers. They are about CEOs helping CEOs scale— about connecting with professionals who face similar challenges at different points of inflection. They are exclusive, confidential and dynamic.
These discussions are unique at each Boot Camp because they are driven by the participants in the room. In addition, participants have numerous opportunities between discussions to follow up with each other on specific topics and to strengthen connections.
The exclusive nature of the interactions and candid, off-the-record discussions serve as a foundation for the long-term relationships that make CEO Connection so valuable.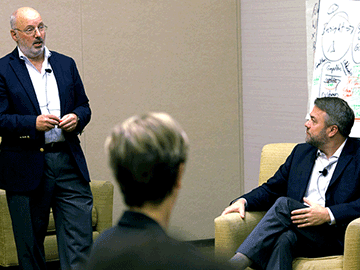 Each Boot Camp's agenda begins with an opening reception, dinner and discussion on the evening before the main event. This helps CEOs settle into the program and get to know other attendees.
The program continues throughout the next day, during which functional experts lead interactive peer discussions. Each Boot Camp covers major themes critical to the success of CEOs, such as leadership, stewardship, human capital, and communication. Short breaks between discussions give participants a chance to follow up with each other on specific topics.
While the Boot Camp agenda remains the same, the discussions are always different because each group of CEOs takes the discussions where they want them to go.
CEO Connection members are top executives from mid-market companies. Their collective business acumen and industry expertise makes the Boot Camp experience a career-changing opportunity. Click here for a partial list of companies whose leaders have attended CEO Boot Camps.
Our roster of presenters and facilitators at CEO Boot Camps reads like a Who's Who among the nation's corporate leaders. Attendees learn from seasoned veterans like Leonard Lauder and John Pepper in an intimate setting that promotes a high level of interaction. These legendary leaders hail from all industries and sectors. They offer both high-level management guidance and targeted advice from their respective fields.
Check out some of our past speakers here.