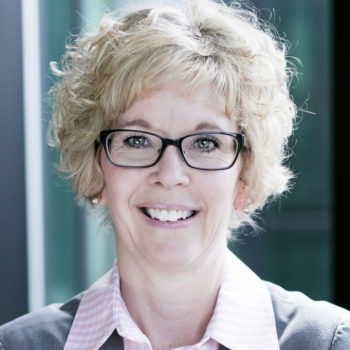 Judy McReynolds
President & CEO of ArcBest Corporation
Judy R. McReynolds is President and Chief Executive Officer of ArcBest CorporationSM, responsible for managing the multi-billion dollar freight transportation and logistics services company, including oversight of the operating companies ABF FreightSM, ABF LogisticsSM, Panther Premium LogisticsSMand FleetNet America®. Since 2010, Ms. McReynolds has also held the post of Director of ArcBest Corporation, and is the only member of the company's senior management who serves on the board. Her nearly 25 years of transportation industry experience, including 17 years at ArcBest, provides significant value to the board.
During her tenure, Ms. McReynolds has evolved the ArcBest strategic focus to expand beyond its core less-than-truckload services in order to better serve customers across the supply chain spectrum. Building upon ABF Freight's 90-year-old roots as an LTL leader, she is diversifying ArcBest into an all-inclusive transportation and logistics provider through the addition of non-asset-based and asset-light businesses. These include the 2012 purchase of Panther, which provides time-sensitive, mission-critical delivery and premium logistics, and the 2013 formation of ABF Logistics as a complementary sister company to ABF Freight.
Previously, Ms. McReynolds was Senior Vice President – Chief Financial Officer and Treasurer, Vice President – Controller, and Director of Corporate Accounting when she joined the company in 1997. Prior to joining ArcBest, she served as Director of Financial Reporting and Taxation with P.A.M. Transportation Services, Inc. and as a Senior Manager of Ernst & Young LLP.
Ms. McReynolds serves on numerous outside boards including OGE Energy Corp., First National Bank of Fort Smith, the Transportation Industry Council of the Federal Reserve Bank of St. Louis and the Westark Area Council of the Boy Scouts of America. She also serves on the Dean's Executive Advisory Board of the Sam M. Walton College of Business at the University of Arkansas, the UAFS Foundation Board and is a member of the American Trucking Associations Board of Directors and Executive Committee. A Certified Public Accountant, Ms. McReynolds holds a bachelor's degree in accounting from the University of Oklahoma.