Register for the 2019 Mid-Market Convention
Your registration is comprehensive and includes the welcome reception Sunday night, two-day convention program, breakfasts, lunches and dinner including one ticket to the 2019 CEO Connection Mid-Market Awards Dinner.
Event is held at the Inn at Penn: 3600 Sansom St, Philadelphia, PA 19104
Ticket to 2019 Mid-Market Convention and Awards Dinner
$2,500.00
2019 Mid-Market Awards Dinner Ticket
Additional ticket to the 2019 CEO Connection Mid-Market Awards Dinner are available. (Each full convention ticket includes one awards dinner ticket.)
At this dinner, CEO Connection will honor the Mid-Market Award winners, including Company of the Year, CEO of the Year, Mid-Market Young Leader, and Mid-Market Social Impact Award. For more information about the awards criteria and bios for previous winners, click here.
The dinner will follow a brief networking reception with new and previous award winners
Dinner-only attendees need not satisfy eligibility requirements for CEOC membership.
2019 Mid-Market Awards Dinner Ticket
$500.00
*Premium Member Ticket Prices
Executive Members: $0
Corporate Members: $0
*Premium members must use their membership code to register.  If you do not know your membership code, please email events@ceoconnection.com.
To upgrade your membership to take advantage of these discounts, please email membership@ceoconnection.com.
For more information and/or to register for the 2019 CEO Connection Mid-Market Convention and Awards Dinner, email convention@ceoconnection.com or call (800) 244-4719 ext. 501.
Lodging is not included.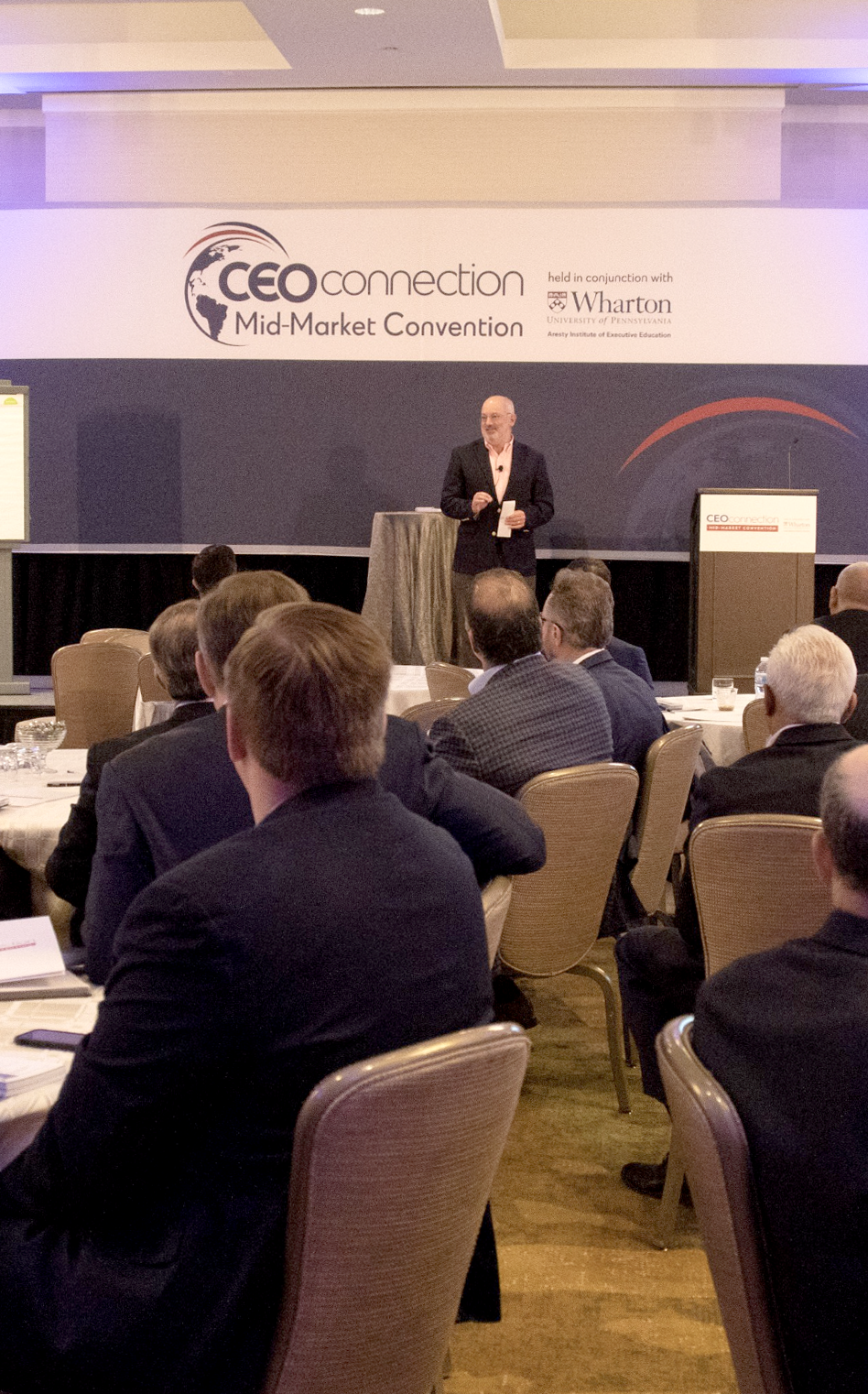 Limited accommodation at the Inn at Penn may still be available. Please contact the reservations department directly to complete your booking at 215-222-0200. 
Additional accommodation may be found at the Sheraton Hotel, across the street from the Inn at Penn. Please use this link to complete your booking. Alternatively, contact 1-888-627-7071 and mention 'Wharton CEO Connect September 2019' to receive the discounted rate. Please note, the discounted rate will end after August 30, 2019.
Registration Requirements
The CEO Connection Mid-Market Convention is limited to 200 CEOs.  Here are the requirements to register:
CEO Connection corporate and executive members get special privileges and consideration; see pricing & description above.
Attendees must run a company, division or unit with annual revenues between US $100 million and US $3 billion
Attendees must hold one the following titles: Chief Executive Officer, Chairman of the Board, President, Managing Director, General Manager, Managing Partner, Executive Director and/or Publisher
The following titles may attend with their CEO: Chief Operating Officer, Chief Financial Officer, Chief Marketing Officer, Chief Technology Officer, Chief Human Resources Officer.
Exceptions will be made on a case-by-case basis.
This event will be photographed and video recorded. By attending the 2019 Mid-Market Convention, you consent to being photographed and/or recorded. Images may be used in future CEO Connection publications and materials.