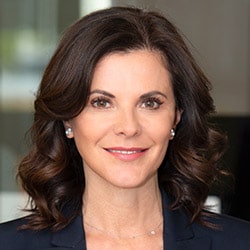 Patty Arvielo
Co-Founder & President, New American Funding
Patty Arvielo has been a leader in the mortgage industry for nearly 40 years. She has worked her way up from the bottom rung and gained extensive knowledge of the entire industry along the way. Over the course of her career, she functioned in a variety of capacities, from underwriting to processing to her current role as Co-Founder and President of New American Funding.
A first-generation Hispanic American, Arvielo learned the value of hard work from her mother, who built a successful cleaning business in California. At age 16, Arvielo entered the workforce with an entry-level clerical position at TransUnion Credit. From there, she landed a job at a prominent mortgage company, where she would rise through the ranks from a clerical loan opener all the way to branch manager to assistant vice president.
Living by the credo "with risk comes reward," she and her husband Rick Arvielo launched their own mortgage company in 2003. In the years since, Arvielo has transformed New American Funding into one of the largest independent mortgage lenders in the U.S., one that helps tens of thousands of families achieve the dream of homeownership every year.
She also oversaw the creation and expansion of the company's retail lending operation, which grew a small local operation to a national powerhouse with 163 locations and thousands of employees across the country.
In fact, New American Funding is now the largest Latina-owned private mortgage company in the nation, appearing on Inc. 5000's list of Fastest Growing Companies in America seven times. But Arvielo's company isn't only defined by its size. Thanks to Arvielo's dedication to creating an inclusive and encouraging environment, New American Funding has also become one of the best places to work in the entire country.
Arvielo and New American Funding recognize the importance of diversity and inclusion. As a result, New American Funding is committed to fostering, cultivating, and preserving a culture that respects and appreciates differences among employees, whether those differences are in ethnicity, gender, race, national origin, disability, sexual orientation, education, or religion.
The company has also been recognized multiple times as one of the best workplaces in the nation by FORTUNE and Great Place to Work®, including as a Best Workplace in Financial Services and Insurance, Best Workplace for Women, and Best Workplace for Millennials.
Arvielo's natural leadership qualities have led her to champion her team and give back as a mentor to help her employees grow their skill sets and careers. Her quarterly mentorship program, "Thrive and Lead," provides New American Funding employees and external mortgage professionals intensive mentoring.
Arvielo also established the company's "If You Want to Grow, We Want to Know" mentorship program, which allows employees to openly share their goals and aspirations with Arvielo and the company's senior leaders for potential advancement in the company. Additionally, Arvielo and New American Funding recently rolled out the "360 Mentorship Program," which matches an internal leader with another employee who is pursuing career advancement. The program serves as an opportunity for the mentor to share their knowledge, aid in the mentee's professional development, and help the mentee develop the skills needed to work towards and pursue advanced career goals.
Beyond creating an enviable working environment, Arvielo has also driven New American Funding to become an industry leader in lending to minorities. In that spirit, Arvielo established the company's Latino Focus and New American Dream initiatives to improve the lending experiences of Hispanic and Black home buyers, respectively.
Those initiatives have led New American Funding to far exceed all other large lenders in lending to minority borrowers. In fact, New American Funding is one of the largest privately held retail lenders to Hispanic and Black borrowers. As a result, Arvielo is a coveted national voice on lending to minority communities, frequently advising federal and state lawmakers, federal and state regulators, governmental agencies, other large lenders, and much more on this critically important issue.
Arvielo's work both at New American Funding and as an advisor has earned her numerous national awards from prominent organizations and media outlets, including being recognized in 2016 by Ernst and Young as an EY Entrepreneur of The Year® for Orange County.