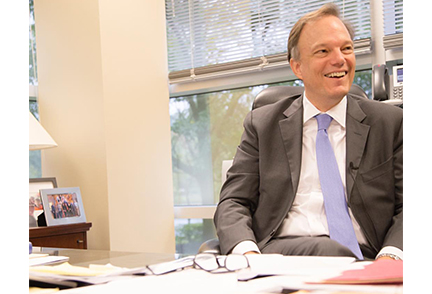 The mid-market is unique — too big to be small, and too small to be big. Mid-market companies must go out of their way to adapt, grow, and to continually meet the needs of their clients in an ever-changing marketplace. Each year, CEO Connection's Mid-Market Awards recognize one mid-market CEO who represents the vision, generosity, and values we associate with effective and inspiring mid-market leadership.
The 2018 Mid-Market CEO of the Year, chosen by his peers, is Dr. Paul T. Decker, CEO of Mathematica Policy Research.
As the President and CEO of Mathematica Policy Research, Decker stands at the helm of a growing nonpartisan research organization dedicated to public well-being. Dr. Decker oversees more than 1,200 research and data analytics experts as they design studies and collaborate with decision-makers across the public and private sectors.
"I'm humbled to be recognized by CEO Connection and especially honored that this award comes just as Mathematica is celebrating 50 years of helping our clients use data to make a difference," said Paul Decker. "It is an exciting time to be leading Mathematica into new areas of work, and to be a part of the community of mid-market companies who are driving innovation across the country and around the world."
Decker holds an undergraduate degree from the College of William and Mary and a PhD from Johns Hopkins University. He has dedicated his career to the design and implementation of studies focusing on education and workforce development programs, including examining links between education and worker productivity.
Since joining Mathematica in 1988, Decker has climbed the ranks and currently serves as the company's CEO and President. In that role, he has testified before Congress and served on advisory boards for a long list of government and academic institutions. Decker's peer-reviewed studies can be found in a number of professional publications, including: Journal of Policy Analysis and Management, Journal of Human Resources, and Economic Studies Quarterly.
Dr. Decker's efforts to expand Mathematica's reach and impact have led to the creation of dedicated research centers, and have helped policymakers tackle some of humanity's most pressing challenges. Outside of Mathematica, he speaks and writes prolifically on trends in the policy research and public programs fields, including the emerging impact of Big Data. Decker is also the Chair of the CEO Connection Government Relations Committee.
Candidates for CEO of the Year are nominated from the community at large, before being referred to the selection committee that reviews and selects finalists. A second committee, comprised of all living prior award recipients, makes the final award selection. Previous CEOs of the Year include Blake Irving of GoDaddy (2017), Ganesh Ayyar of Mphasis (2016), and Lars Bjork of Qlik (2015).
CEO Connection is pleased to recognize Dr. Decker as the 2018 Mid-Market CEO of the Year. Join us to celebrate his selection for this award, along with other award recipients and guests at the 2018 Mid-Market Convention Awards Dinner on September 25, 2018 at the Wharton School.