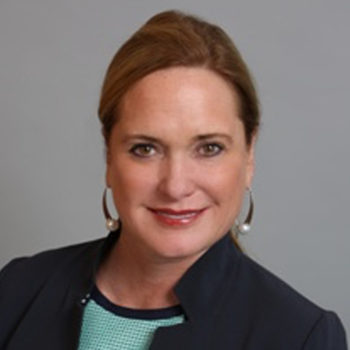 Lesa France Kennedy
CEO & Vice Chairperson on the Board of Directors for International Speedway Corporation and Vice Chairperson and Board Member of NASCAR
Lesa France Kennedy is Chief Executive Officer and Vice Chairperson of the Board of Directors for International Speedway Corporation ("ISC") and Vice Chairperson and board member of NASCAR.
In 2013, ISC launched its largest development project to date – DAYTONA Rising, a $400 million re-creation of the company's flagship motorsports facility, the Daytona International Speedway. In January 2016, Daytona International Speedway became the world's first modern motorsports stadium, revolutionizing the sport and fan experience. In May 2016, the stadium was named Sports Facility of the Year at SportsBusiness Journal's 2016 Sports Business Awards.
ISC is currently developing ONE DAYTONA, an ambitious mixed-use and entertainment destination set to open in 2017 across from the Speedway with tenants including Bass Pro Shops®, Cobb Theatres, P.F. Chang's and an exclusive Marriott Autograph Collection® hotel.
Forbes selected her for a second time in 2015 as the "Most Powerful Woman in Sports". In 2016, Kennedy was inducted as a member of the Cynopsis Sports Hall of Fame and was named one of ADWEEK's 'Top 30 Most Powerful Women in Sports'. In her more than 30 years with ISC, she has advanced through several key executive positions with increasing responsibility including Secretary, Treasurer and Executive Vice President.
In 1996, her leadership launched Daytona USA (later named Daytona 500 Experience) at the Daytona International Speedway, opening the destination's first year-round motorsports attraction and museum. In 2002, she led two development projects, creating Kansas Speedway and Chicagoland Speedway and expanding ISC's portfolio into two major Midwest markets.
Kennedy received the "Women Making History" award from the National Women's History Museum in 2014 and was selected by Street and Smith's SportsBusiness Journal as the "Most Influential Woman in Sports Business" in 2005.
Her son, Ben Kennedy, is carrying on the France family legacy as a driver in the NASCAR Camping World Truck Series.
Lesa France Kennedy serves on the Board of Directors of the International Motor Sports Association (IMSA), the NASCAR Foundation and the Board of Advisors of Moffitt Cancer Center. She is an avid supporter of the American Heart Association, Habitat for Humanity, Victory Junction Gang, and Daytona Beach Museum of Arts and Sciences. A Daytona Beach, Fla. native, Kennedy earned her Bachelor of Arts degree in economics and psychology from Duke University.