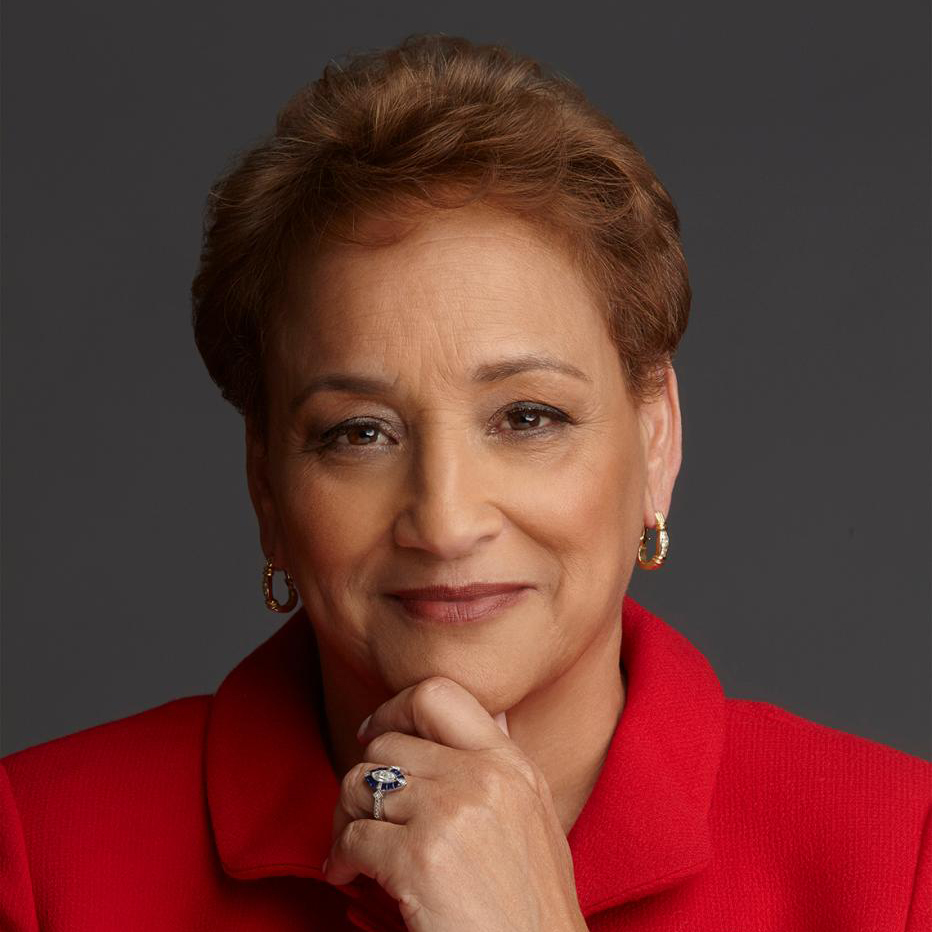 Jo Ann Jenkins
CEO, AARP
As CEO of AARP, Jo Ann Jenkins leads the world's largest non-profit, nonpartisan membership organization, harnessing the power and passion of almost 2,300 staff members, 60,000 volunteers and numerous strategic partners. Since joining the organization in 2010 and heading it since 2014, she has transformed AARP into a leader in social change, dedicated to empowering people to choose how they live and age. A fearless champion for innovation and impact, Jenkins is often lauded for her ability to create business opportunity and competitive differentiation. She has been described as a visionary and global thought leader, a catalyst for breakthrough results, accelerating progress and contribution while fostering positive relationships.
Jenkins offers deep knowledge and experience derived from her work with some of the nation's most iconic brands – the U.S. Government and Library of Congress as well as AARP and AARP Foundation – with an understanding of the interplay and nuance of business, politics and social change.
While AARP has long been recognized for its services, information and advocacy on behalf of people age 50 and over, Jenkins led efforts to redefine AARP's vision, challenge outdated beliefs and spark new insights that allow people to adapt to the new realities of aging – with relevant solutions to everyday issues such as health, financial resilience, digital and social connectivity, work opportunities and personal fulfillment. Her best-selling book, Disrupt Aging: A Bold New Path to Living Your Best Life at Every Age, has become a signature rallying cry for revolutionizing society's views on aging by driving a new social consciousness and sparking innovative solutions for all generations. She also established a new strategic direction and operating structure for AARP Foundation, focusing on change in four critical areas – hunger, income, housing, and isolation. She created Drive to End Hunger, a multi-year, nationwide campaign which has donated over 36 million meals and provides support to over 100 anti-hunger organizations across the country.
Jenkins began her career with the U.S. Department of Housing and Urban Development, later moving to the US. Department of Transportation and U.S. Department of Agriculture in a variety of leadership roles with increasing responsibility. Interlaced with her public service, she served in several private consulting firms, advising major corporations in their development and implementation of diversity and organizational strategy. In 1994 she was asked to join the Library of Congress as a senior advisor, then Chief of Staff, becoming its Chief Operating Officer in 2007. She led the development of innovative initiatives that transformed the Library's workforce into "knowledge navigators," launched the National Book Festival, created the Library of Congress Experience, an interactive pathway offering access to the Library's incomparable collections, and built strong, mutually-supportive relationships with private sector sponsors.
Jo Ann Jenkins has held a variety of board and advisory positions including AARP Services, AARP Funds, Colonial Williamsburg Foundation, The Wall Street Journal CEO Council, Kennedy Center National Symphony Orchestra Board of Directors, Stanford School of Medicine Board of Fellows, U.S. Small Business Administration Council on Underserved Communities, Caring for Military Families, AVNET Board of Directors; World Economic Forum Stewardship Board for the Education, Gender, and Work System Initiative; and World Economic Forum, Board of Governors for the Health Systems Initiative. In 2019, she was named to the AARP Board of Directors; Baldridge Leadership Award (2019); Fortune: "One of the World's 50 Greatest Leaders" (2019). She has been recognized with WNET New York Public Media 2018 "Woman of Vision" Award; Washington Business Journal's "Women Who Mean Business" award (2018); Black Enterprise Magazine "Most Powerful Women in Business" (2017); Actor's Fund Medal of Honor (2017); International Association of Gerontology and Geriatrics 2017 Presidential Award; Foreign Policy Global Thinker (2017); Power 100 – Washington's Most Influential People, Washington Life Magazine (2015, 2016, & 2017); "Non-Profit Influencer of the Year" (2015); "Non-Profit Times' Power and Influence Top 50" (2013, 2014, 2015, 2016 and 2018); Peace Corps Director's Award (2014) and Malcolm Baldrige Fellow (2013).
After earning her Bachelor of Science degree from Spring Hill College in Mobile, AL, she graduated from the Stanford Graduate School of Business Executive Program. Jenkins also holds an Honorary Doctorate of Humane Letters from both Spring Hill College and Washington College.­