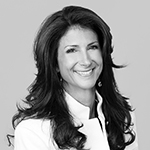 Jamie Greenleaf
Managing Director / Founder, TILT
Jamie is the Managing Director / Founder of TILT. Jamie is known for her extensive and unparalleled knowledge, expertise and passion for the industry. She has a keen ability to guide, support and educate plan trustees, plan sponsors and plan participants alike.
Jamie Greenleaf literally grew up in the retirement advisory industry. She began her career at leading firms (UBS and Prudential) traveling across the country, meeting with 401(k) plan sponsors, educating them on their fiduciary responsibilities under ERISA, and helping to structure retirement plans that truly benefit both employers and their employees. After years of consistently ranking among the top retirement advisors nationally, in 1997 Jamie became a principal of Cafaro Greenleaf, a leading North Eastern retirement plan advisor, and grew the firm to national prominence. In 2020 Cafaro Greenleaf was acquired by OneDigital.
In 2019 Jamie recognized the growing convergence of the Health and Wealth conversations and founded TILT to provide health plan advisory services to mid-market employers. Through TILT, Jamie brings a fiduciary eye to the plan design conversation, acts as an advocate for her clients, and offers unparalleled transparency into the short-term and long-term impact of health plan design.
Jamie is an adjunct lecturer in the Plan Sponsor University certification program for UCLA's Anderson School of Business-Executive Education, is regularly invited to speak at industry conferences, and is a sought-after presenter for many continuing education sources such as SHRM University Conference Services, HR.com, and Pensions and Investments. Jamie serves on the Advisory Boards of Prudential, and John Hancock, and the Leadership Council for the National Association of Plan Advisors (NAPA), where she regularly provides her insight and expertise to our nation's regulators and policymakers in Washington DC.