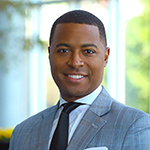 Van Freeman
Director, Future Workforce Development and Strategy for the Aerospace Industries Association
Van Freeman currently serves as the Director, Future Workforce Development and Strategy for the Aerospace Industries Association, where he is focused on developing a strong workforce pipeline for members through programs with government agencies, national STEM skills initiatives, and coherent workforce policy principles.
Van previously served as Deputy Chief of Staff at the DC Department of Employment Services, directing the District of Columbia's state labor agency. He oversaw all employment, training, business development, labor law enforcement, worker safety, universal paid family leave, and unemployment insurance programs funded at more than $150M in local, state, and federal funds. He also managed an additional $80M in active capital projects, including the DC Infrastructure Academy and the Universal Paid Family Leave program.
Freeman managed the strategic messaging, communications, legislative portfolio, stakeholder engagement, and regulatory rule-making process for the Department, as well as human resource and talent acquisition for over 700 employees and the unemployment compensation unit that provides benefits to all district residence.
Van also served as the Senior Advisor to the National Director at the Minority Business Development Agency (MBDA), where he advised the National Director and senior leadership team on strategic decisions, national programing, high level fiscal approaches, and congressional priorities.
Before Freeman transitioned to his role at MBDA, President Obama appointed him to serve as a Deputy Director in the Department of Commerce's Office of the Secretary in 2013.
Van began his career at General Motors (GM) as a Manufacturing Engineer, eventually moving up to Production Supervisor at GM's parts distribution center in Pontiac, MI. Leveraging his business and analytical background, Van landed a position with UBS Investment Bank in London, UK, as a Business Analyst. He then joined President Obama's campaign staff in Cleveland, OH, for the 2008 and 2012 election cycles.
Van holds a Bachelor of Science in Mathematics from Morehouse College and Juris Doctorate from Southern University Law Center. He currently resides with his wife and daughter in Washington, DC.