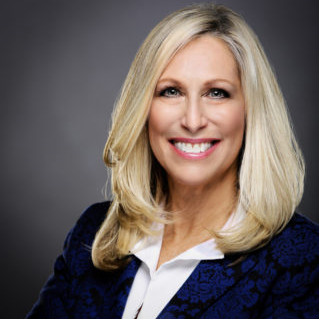 Karyn Schoenbart
Chief Executive Officer of The NPD Group and the best-selling author of Mom.B.A.: Essential Business Advice from One Generation to the Next
Karyn has spent the majority of her career working at The NPD Group, which provides information and advisory services for over 20 industries.  NPD combines unique data assets and prescriptive analytics with industry expertise, working with the world's leading brands to support better business decisions and drive growth.
Passionate about coaching others to greater levels of achievement, Karyn wrote Mom.B.A: Essential Business Advice from One Generation to the Next as a practical guide on everything from effective first impressions and workplace politics to relationship development, skill-building, and overcoming the Impostor Syndrome.  The book is based on the real-life business lessons Karyn amassed during her career.
Karyn has received several awards recognizing her outstanding impact as a female business leader including the 2016 Long Island Brava Award and the 2017 Legacy Award from Women in Consumer Technology.  She was also named one of the Top 25 Most Influential Women of the Mid-Market by the CEO Connection for the past four years.
Karyn currently serves on the advisory board of The Resolution Project, a nonprofit organization that develops socially-responsible young leaders.  Karyn has also served on the boards of directors of Civic Science, ARF Women in Analytics and CASRO, the Council of American Survey Research Organizations.   She regularly teaches classes in leadership and developing client relationships. Karyn is a frequent speaker at industry conferences and events, notably:
| | |
| --- | --- |
| Beauty and FN (Footwear News) CEO Summits | Advertising Research Foundation's Women in Analytics |
| Fairchild WWD (Women's Wear Daily) | Long Island University |
| FFANY (Fashion Footwear Association of NY) | Logitech Corporate Headquarters |
| Hewlett Packard Annual Meeting | Outsell's Women's Inaugural Conference |
| Women of Isenberg, Keynote speaker | Women in Consumer Technology |
| Women of The Channel East: Leadership Summit | Keurig Dr Pepper Corporate Headquarters |
| Women's Foodservice Forum | Pilot Pen Corporate Headquarters |
| Women in Auto Care Winter Conference, Keynote speaker | Carnegie Mellon University |
Karyn is a graduate of the University of Massachusetts, summa cum laude. She and her husband live in Woodbury, NY.  They enjoy the beach and spending time with their adult children.
www.karynschoenbart.comTwitter: @karynschoenbart  Facebook: @karynschoenbartauthor