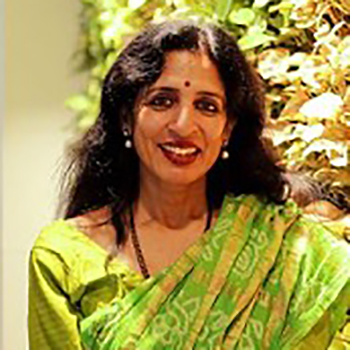 Jayshree Ullal
President & CEO, Arista Networks
Jayshree V. Ullal (born March 27, 1961) is an American billionaire businesswoman, president and CEO of Arista Networks, a cloud networking company responsible for the deployment of 10/25/40/50/100 Gigabit Ethernet networking in the data center. Ullal was born in London, and raised in New Delhi, India, through her school years. She eventually attended San Francisco State University where she graduated with a B.S. in engineering (electrical). She went on to Santa Clara University where she received a master's degree in engineering management.
Ullal began her career with engineering and strategy positions at Advanced Micro Devices (AMD) and Fairchild Semiconductor. She was director of internetworking products at Ungermann-Bass for four years before joining Crescendo Communications. At Crescendo, Ullal became vice president of marketing, working with 100-Mbit/s over copper, the first CDDI products and first-generation Ethernet switching.
In September 1993, Cisco Systems acquired Crescendo Communications, marking Cisco's first acquisition and foray into the switching market. Ullal joined Cisco and began work on the Cisco Catalyst switching business, which grew from its beginning, in 1993, to a $5 billion business in 2000. As vice president and general manager of LAN switching in the Enterprise group, Ullal was responsible for unified communications, IP telephony, content networking and policy networking. She oversaw some 20 mergers and acquisitions for Cisco in the enterprise sector.
Ullal was eventually named Senior Vice President of Data Center & Switching, reporting directly to company CEO John Chambers. Responsibilities included the direction of the modular Nexus and Catalyst Data Center Switching and Application/Virtualization services which saw about $15 billion of direct and indirect revenue. Ullal's career at Cisco spanned more than 15 years.
In October 2008, co-founders Andy Bechtolsheim & David Cheriton named Ullal CEO & President of Arista Networks, a cloud networking company located in Santa Clara, CA. Ullal was named by Forbes magazine as "one of the top five most influential people in the networking industry today" for her work at Arista Networks. In June 2014, Ullal led Arista Networks to an IPO on the New York Stock Exchange under the symbol ANET. Jayshree was named one of Barron's "World's Best CEOs" in 2018 and one of Fortune's "Top 20 Business persons" in 2019.