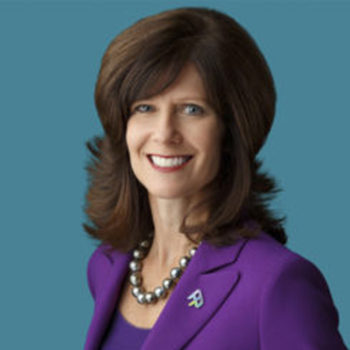 Susan Salka
CEO, President, and Director of AMN Healthcare Services, Inc.
Susan Salka is CEO, president and director of AMN Healthcare Services, Inc., (AMN). Under her leadership, AMN has become known as the innovator in healthcare workforce solutions and the largest and most diversified healthcare staffing company in the nation.
Ms. Salka is an active industry spokesperson in the healthcare and investment community, and has been one of the driving forces behind the company's strategic and operational success since joining the company in 1990.
Before becoming CEO and president, Ms. Salka served in several other executive positions at AMN Healthcare, including CFO, COO and SVP of business development. Ms. Salka currently serves on the board of directors of McKesson, The Campanile Foundation at San Diego State University, and serves on the editorial advisory board of Directors & Boards Magazine. She previously served on other public company boards, such as Beckman Coulter and Playtex Products.
Ms. Salka takes an active role helping others to achieve their personal and professional goals. She is keenly aware of the need to promote the value of women in leadership and in the importance of community service and support. In both 2008 and 2016, Ms. Salka was recognized as San Diego's Most Admired Public Company CEO. Ms. Salka was presented with the Exemplary Award at San Diego Business Journal's Women Who Mean Business Awards in 2011 and was honored as the 2012 Woman of the Year by San Diego Magazine.
Ms. Salka was also recognized as one of San Diego's Top Influentials in 2011 and 2014 by the San Diego Daily Transcript. In 2014, Ms. Salka was named Director of the Year for Corporate Citizenship by the Corporate Director's Forum. As an alumna of Chadron State University, Ms. Salka has been honored with the Distinguished Alumni Award. She was also awarded the Monty Award for accomplished alumni by San Diego State University, where she received her master's degree in finance. In 2016, Ms. Salka was honored by San Diego State University with the honorary degree of Doctor of Humane Letters from the college of business administration.